Cognac Queen song is undoubtedly a classic in rap history: party and seducing men while under the influence of cognac.
Megan Thee Stallion in the enchanting world of music: with her fiery spirit, fierce lyrics, and empowering presence, she quickly rose to prominence as a force to be reckoned with.
But Megan was not content with just conquering the music scene; she set her sights on breaking barriers and empowering women like never before.
And thus, she embarked on a journey that would transform her into the illustrious "Cognac Queen". Check this out!
Identity
Title : Cognac Queen
Artist : Megan Thee Stallion
Produced by : MCV
Released : december 2000
Album : "Tina Snow" (EP)
Lyrics : Megan J. Pete
---
Cognac Queen song
---
About Cognac Queen song

Cognac Queen appears on the "Tina Snow" EP, the song 5. This is Megan's 2nd EP, released on June 2018.

The song is about success, fame, drinking cognac, dancing, and taming a man! So raise your glass to Megan Thee Stallion, THE Cognac Queen!
Breaking Stereotypes: Megan Thee Stallion's Impact as the Cognac Queen

Her music resonated with listeners as she fearlessly embraced her sexuality, body positivity, and unapologetic attitude. Megan aimed to challenge societal norms through her lyrics and empower women to embrace their strength and individuality.
As a result, her music became a platform for self-expression, fostering a sense of empowerment among her fanbase.

But Megan's journey didn't stop at music alone. Inspired by her own experiences and the struggles faced by women in various industries, she sought to extend her influence beyond the recording studio.

During this time, she forged an unexpected connection with the world of cognac (a luxurious and traditionally male-dominated domain).
The cognac industry, known for its exclusivity and refined taste, had long been dominated by men. Megan saw an opportunity to disrupt this norm and leave her indelible mark: she envisioned becoming the "Cognac Queen"—a symbol of strength, sophistication, and feminine power.
Cognac Queen's featuring D'USSÉ XO

In December 2021, D'USSÉ hosted an intimate dinner for Megan thee Stallion to celebrate her graduation from Texas Southern University with her closest friends and family.
They spent the evening toasting her successes and accomplishments with D'USSÉ XO and customized cognac cocktails.

A great partnership to spread the love of cognac!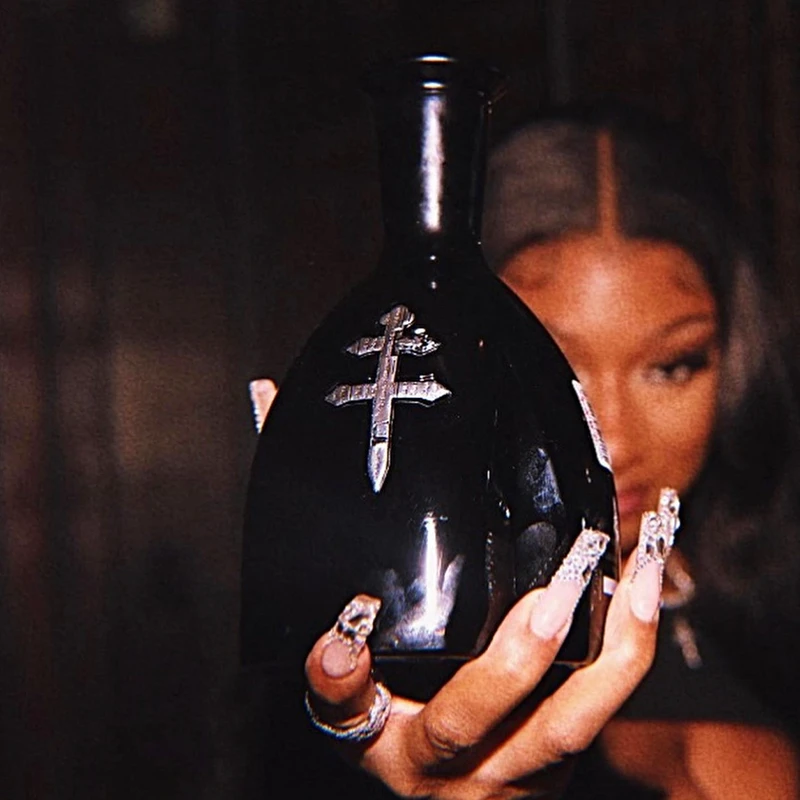 ---
Cognac queen lyrics

[Intro]
(MCV, bitch)
I'm in my act, I wanna dance
I'm on that yac, I wanna dance
Come get your man, before I put him in a trance
I'm in my act, I'm on that yac
I wanna dance, come get your man, come get your man

[Verse 1]
I woke up paid and pretty (Yeah)
Hair hangin' down to my back (Huh)
I put it on him last night (Woo)
He callin' me back to back (Hey)
Bitch, this a new outfit (Huh)
Turn to the back for a pic (Huh)
Cognac Queen, I'm lit (Woo)
Henn dawg, henn dawg, henn dawg, henn dawg
She pullin' up with a forty (A forty)
I'm pullin' up with a shorty (A shorty)
I'm fresh off the plane, I'm imported (Imported)
I'm fuckin' a baller, we courting
I'm makin' it clap, he record it (Damn)
And he keep on makin' them noises (Yeah)
Damn, fuck (Fuck), shit (Ooh), ooh (Yeah)
Drop me a pin, where you at? (At)
I'ma come 'round like a lac (A lac)
I get in my act on that yac (Yeah)
He call me Megan the Mack
It's turnin' him on how I rap
He doggin' it, I'll make it fat
And he tell me "Girl, you the best"
But I already know what I am, yeah, yeah
He know I only wanna come over put it on him
I got that woah-na-na-na, he drink that shit like water
I got that supernova, that super grip, that choker
I got that ditch yo' bitch (What?), tell her I'm comin' over

[Refrain]
I'm in my act, I wanna dance
I'm on that yac, I wanna dance
Come get your man before I put him in a trance
I'm in my act, I'm on that yac
I wanna dance, come get your man, come get your man (Ayy, ayy, yeah)

[Chorus]
Cognac Queen, huh, Cognac Queen, ayy
Fuck is you saying? Fuck do you mean?
I get on that yac, then I lean, ayy
Cognac Queen, uh, Cognac Queen, huh
Together forever when we on the drink
Fuck it, I don't wanna think

[Verse 2]
Top down when I ride (Down when I ride)
Gettin' high like a five (High like a five)
Bitch, I pull up on your boo (Bitch, I pull up on your boo)
Tell his ass "Get inside"
Let a real bitch slide
Got him drinking nine to five (Yeah)
He know that I'm droppin' that game
But I'm not gon' tell him a lie (Uh-uh)
Drank, drank, I been drankin'
I hit you up when I'm faded
I know you're tired of me playin'
I call you back to back, call you back
Until you call me, call me back, baby (Mwah)
I know it's late, you been waitin' (Yeah)
My cognac kisses make you crazy
These other bitches can't fade me
You look good, you look good to me
Give me a hug, it feel good to me (Yeah)
Pour me up, you're too good to me
Cut 'em off, I know you would for me
He like "Damn, goddamn, girl
You should let me gon' be ya' man girl" (Yeah)
And he know I only agree
When I'm gettin' full of the drink
Went Courvoisier crazy
Got him thinkin' he my baby
Don't care what he sayin' (No)
I'm speakin' all body language (Body)
Fall in love, would be dangerous (Yeah)
Fuck you like I've been drankin' (Uh)
Cognac on my blankets (Yeah)
Real bitches don't fake it, ayy, ayy

[Refrain]
I'm in my act, I wanna dance
I'm on that yac, I wanna dance
Come get your man before I put him in a trance
I'm in my act, I'm on that yac
I wanna dance, come get your man, come get your man

[Chorus]
Yeah, Cognac Queen, huh, Cognac Queen, ayy
Fuck is you saying? Fuck do you mean?
I get on that yac, then I lean, ayy
Cognac Queen, huh, Cognac Queen, yeah
Together forever when we on that drink
Fuck it, I don't wanna think

[Outro]
Drank, drank, I been drankin'
I hit you up when I'm faded
I know you tired of me playin'
I call you back to back, call you back
Until you call me, call me back, baby
I know it's late, you been waitin'
My cognac kisses make you crazy
These other bitches can't fade me (Fade me)
---
Cognac queen lyrics sense

Megan Thee Stallion's "Cognac Queen" isn't just your regular song; it's a vibe, a whole mood. It's all about living it up, embracing that party lifestyle, and driving those men wild, all while sippin' on some smooth cognac, that fancy brandy. Just like Snoop Dogg in Hennesey and Buddha or Busta Rhymes in Pass The Courvoisier.

In the lyrics, Megan struts her stuff like a boss. She's confident carefree, waking up looking fly, sliding into new outfits like it's a fashion show, and not giving a second thought to overthinking anything. With that cognac in hand, she's feelin' herself, feelin' powerful, and oh-so-sexy. It's like liquid courage for the soul.

And peep that title, "Cognac Queen." Megan ain't just singing it; she's owning it. It's her way of sayin', "I'm in charge here, fellas." She's throwin' out invites to dance, bragging about her skills, making it clap on the dance floor, and turnin' heads with her rap game.

So this track is all about celebrating life, seizing every moment, and having a blast while you're at it. It's a party anthem that'll have you feeling like the king or queen of the night.

Cheers to Megan Thee Stallion, the ultimate "Cognac Queen"! 🥂👑
---
Give me cognac posts please