Hennessy cognac is the most famous brand of cognac worldwide. It creates and changes the game thru the ages!
Many people see Hennessy as THE symbol of sophistication, elegance, and luxury.
There is so much to say about this amazing cognac brand!
To begin and fully measure the success and the place that Hennessy holds in the cognac world, look at these 2021 figures:
It is the largest cognac producer in volume.
Hennessy 2021 Sales figures: 1 873 607 858 €
"Henny" sells approximately 70 to 80 million bottles every year
It has nearly 50٪ of the cognac market… worldwide!
Hennessy is the king! Let's dive into its successful history! Long live the king!
Hennessy Identity
Hennessy : ID card
Brand name: Hennessy
Company: LVMH / JAS HENNESSY & C°
Founder: Richard Hennessy
Founded: 1765
CEO: Laurent Boillot
Head office: rue de la Richonne, 16100 Cognac, France
SIRET: 905 620 035 00014
Turnover: 1 873 millions € (2021)
Maitre de chai: Renaud Fillioux de Gironde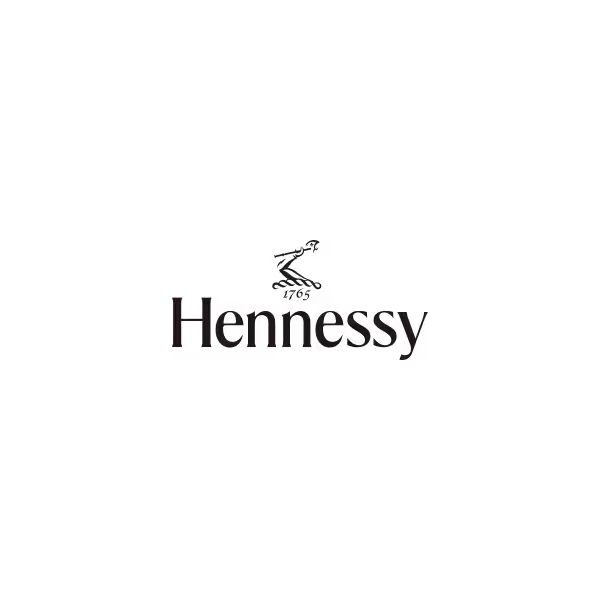 ---
The Beginnings of Hennessy cognac: a look at the early years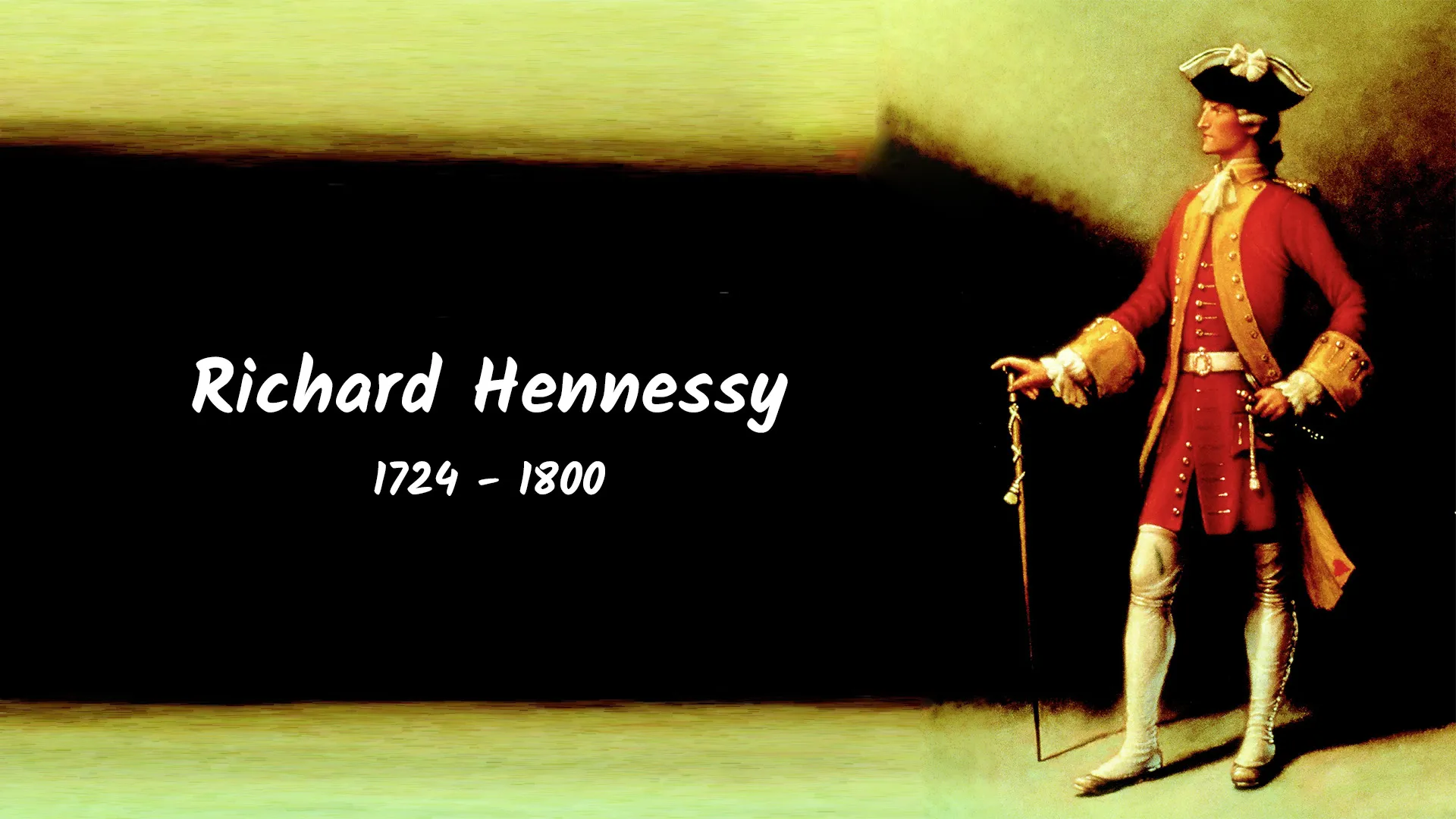 The cognac firm started in 1765 with an Irish officer at the service of the King of France, Richard Hennessy.
He retired in the Cognac region with his family and began distilling and exporting cognac, first to the United Kingdom/Ireland and closely followed by the United States (1794).
In 1806, he named Jean Fillioux the first Hennessy Master Blender since a member of the Fillioux family had always occupied the role.
Then, "Henny" created the VSOP designation in 1817 (after a request from King George IV).
During the XIXth century, Hennessy developed and exported his cognacs worldwide: Russia, India, Australia, Southeast Asia, South American, Japanese, and Chinese markets.
---
From France to the World: how Hennessy cognac became a global brand

Since 1840, Hennessy has been the world's leading cognac exporter. Hennessy represented one out of every two bottles of cognac sold internationally!

In 1870, "Henny" created the XO cognac. During the 1920 and the prohibition in the US, Hennessy cognacs were sold as a medicine (nice tricks !).

The most crucial growth driver came from African-Americans who made cognac an emblem of the African-American community after the Second World War and their discovery of cognacs during the stationing of GIs in France. In opposition to bourbon that was too attached to the white protestant community (WASP).

To finish, American rappers have given cognac producers a colossal boost by promoting it in their music videos and even taking inspiration from certain brands for their song titles (2pac – Hennessy, Snoop Dogg – Hennessy N Buddah)

Nowadays, designers (Justin Haynes, JonOne), sports (NBA), artists (Nas, Alicia Keys, Lang Lang…), and entertainers (The Twins…) are the ambassadors and partners: they release collectible editions to mark special occasions, and anniversaries.
Make Hennessy shine and prosper! Be empowered!
---
The Hennessy company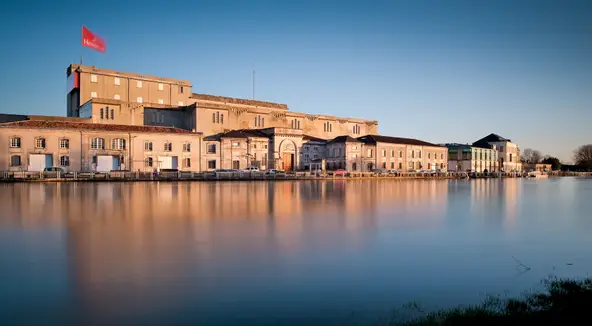 Hennessy is no less than 1,000 people passionate, dedicated, and committed to developing cognac, the cognac terroir, the cognac brand, cognac products, and projects.
Hennessy works with the entire AOC cognac wine and distillery industry. So much talent, expertise, and skills at the service of Hennessy's success.
---
Hennessy cognacs & the art of blending: an inside look at the process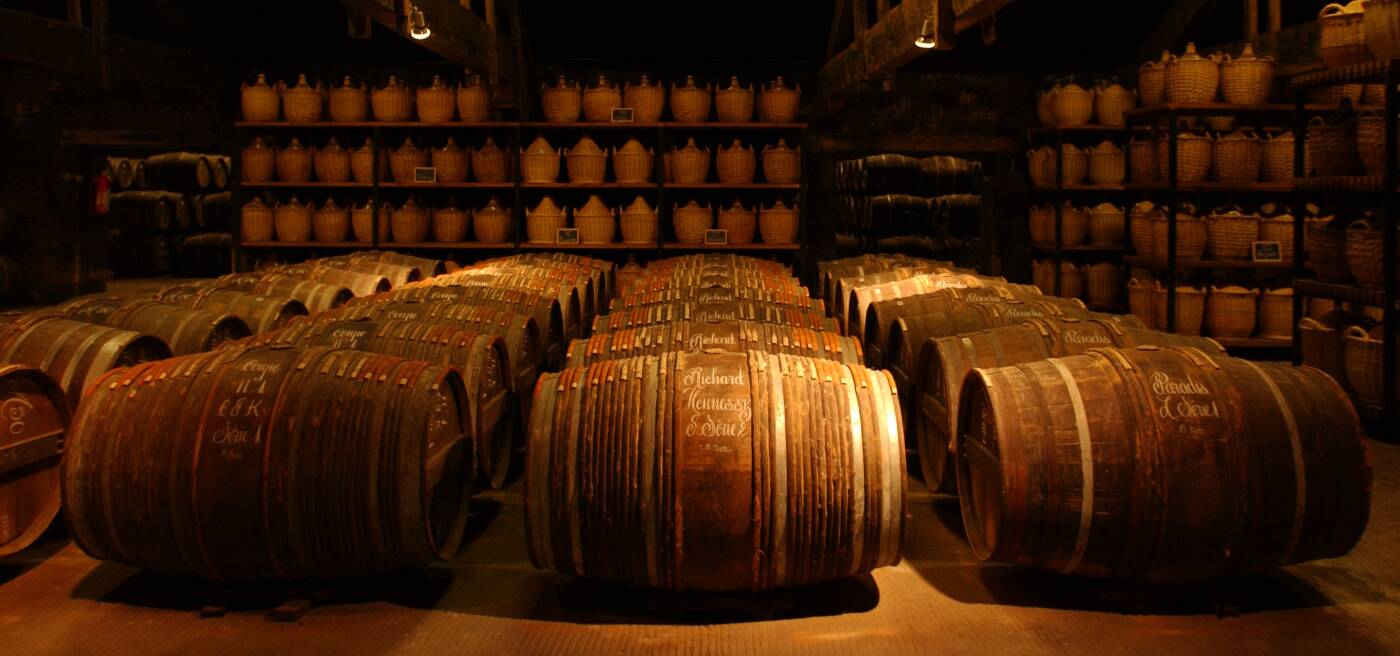 The company uses a meticulous process of blending and maturation of varying lengths to create several distinct gradings of cognac, including its popular VS, VSOP, and XO gradings…
But Hennessy is also known for its expensive specialist cognacs, some of which are still blended by the Fillioux family and can contain more than one hundred different eaux-de-vie, some centuries old.
These limited cognac editions are traditionally accompanied by luxurious trimmings such as custom-made boxes and hand-blown carafes, making them highly sought after by collectors and connoisseurs alike.
---
Hennessy's cognac bottles

From VS (Very Special) to XO (Extra Old), Hennessy offers a wide range of cognac products to suit different tastes and budgets: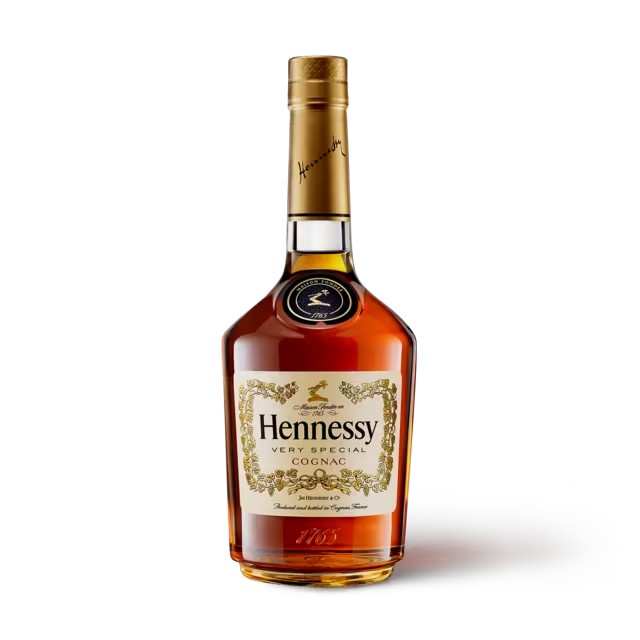 It also had a great list of cognac collector bottles and cognac special editions: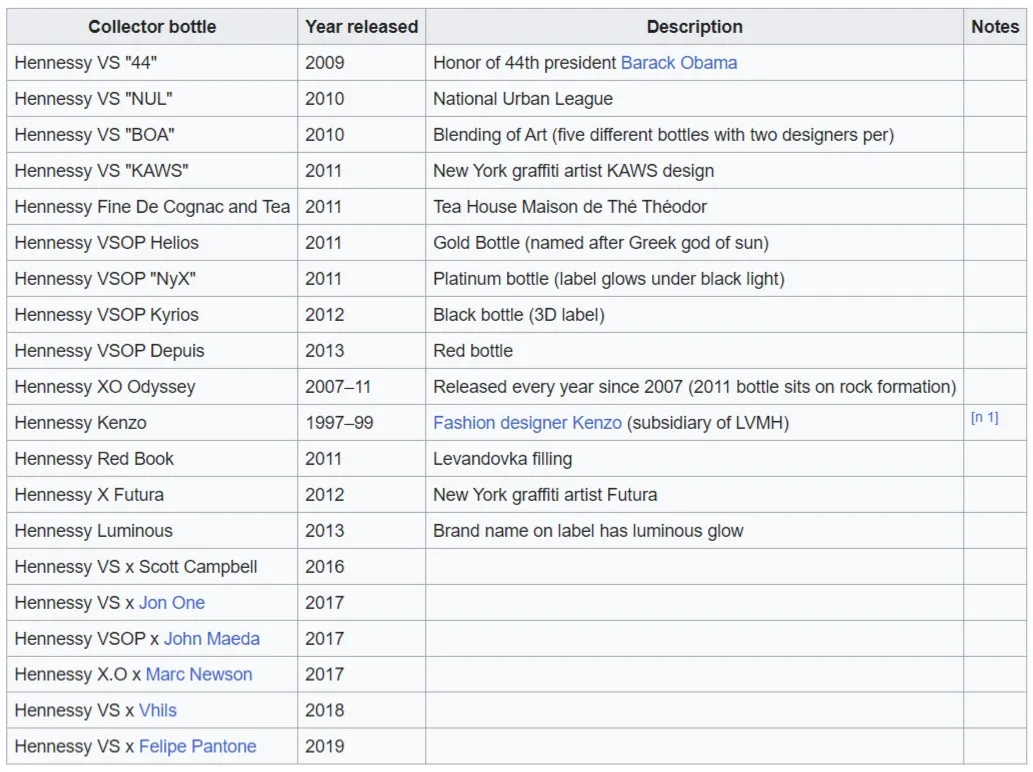 Hennessy cognac today: the latest developments and future prospects

Hennessy is an ingredient in many cognac cocktails and mixed cognac drinks, making it a popular choice in mixology, nightclubs, and bars.
The company has launched several new products aimed at this on-premises market, including Master Blender n°3 & 4, Hennessy Black, Hennessy Paradis, and has promoted them accordingly.

Undoubtedly, the cognac brand will continue its partnerships in arts, movies, music & sports for a strong presence in established and emerging markets.

Hennessy has also committed to sustainable practices in its cognac production processes, including using renewable energy and reducing waste and water consumption.
---
The magnificent commercials of Hennessy cognacs

No words. Just enjoy the shows.
---
The website by Hennessy

Overall, the Hennessy website is well-designed, user-friendly, and informative.

The Hennessy website has an elegant and sophisticated design, which reflects the brand's image as a premium and high-quality cognac producer.
The color scheme is mainly black, white, and gold, which adds to the luxurious feel of the website.

The navigation is easy to use and provides access to all the main sections of the website, including cognac products, Discover, Heritage ( great timeline !), cognac cocktails, a virtual tour of the Hennessy Maison in Cognac city, and information about the company's commitment to sustainability and social responsibility.

The content is engaging and fascinating, catering to casual drinkers and connoisseurs.

The Hennessy cognac products section provides detailed information about Hennessy's range of cognacs, including their history, tasting notes, and serving suggestions.
The information is well-organized, easy to read, and includes high-quality images that showcase the cognac products.
---
Give me more cognacs !